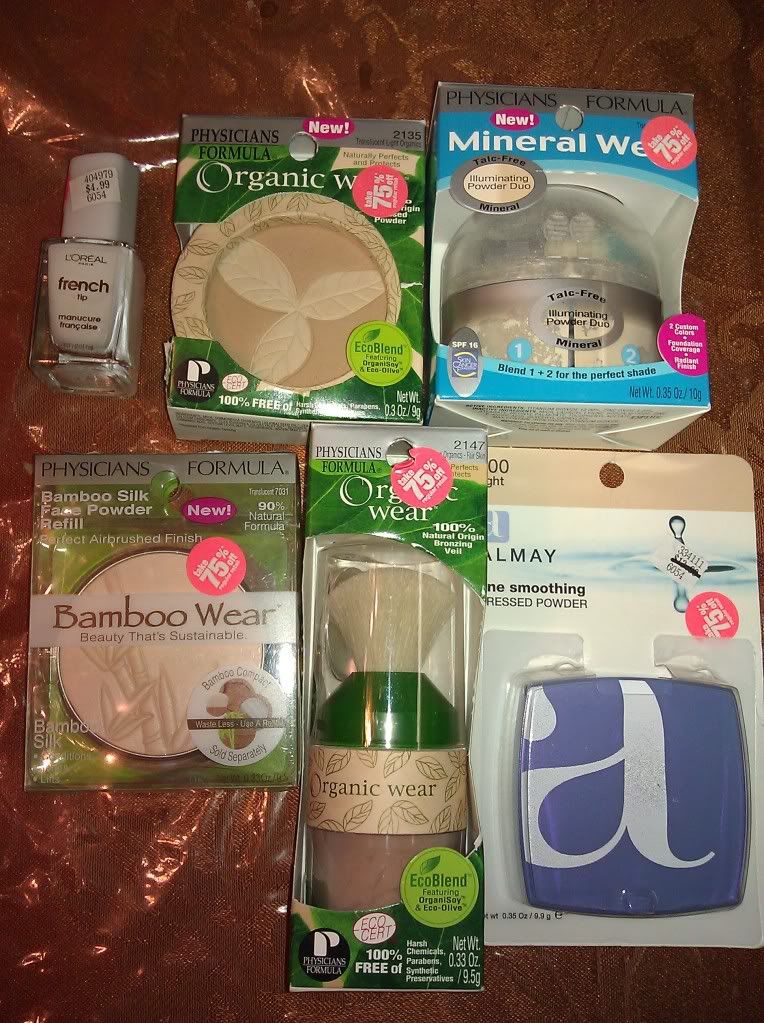 I bought all these items last week at CVS. I've never tried Physician's Formula before so the 75% off was great. Each item was around $3-4. CVS also has a beauty club program now where you get $5 back for every $50 purchase. This is a good program if you plan on buying a lot of drug store makeup. However, I did realize that CVS marks up some of their items compared to other drugstores. But the prices even out when you consider the "extra bucks" and sales.
My friend had told me not to try PF's organic wear because it smelled like plastic to her. I didn't find mine to smell like anything, though. Maybe it's because I have a horrible sense of smell, haha.
The bamboo wear powder and mineral wear powder had shimmer in it when swatched. I prefer a matte finish, so this really bothered me. However, when I wore it on my face it was not noticeable at all. In fact, the mineral wear powder gave a really nice finishing touch. Also, it is talc-free and has two slighty different shades in it, so you can mix and match.
I have yet to try the bronzer but it seemed really powdery when I swatched it. The almay powder didn't do anything amazing, so I don't really have much to say about it. The french tip nail polish I also haven't tried.
I like the fact that a lot of Physician's Formula's items are free of harsh chemicals and is great for acne prone or sensitive skin. It does cost a little more than other drugstore brands, but it's worth it when there's some sort of sale.
Bottom line: I would definitely purchase more of PF's products (on sale of course, haha). Some of their packaging, in my opinion, is nice. And it's good to know that it is safe for sensitive skin, non-comedogenic, and paraben free.